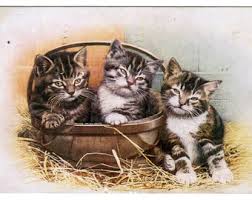 During the 1800s and early 1900s, stories about animal mascots in New York City and other metropolitan areas appeared in the news almost on a weekly basis.
• Fire departments had Dalmatians to help with the horses and wagons (the dogs would bark to let people know to move out of the way and also distracted and comforted the horses as they pulled the wagons closer to the blaze), but the firemen also picked up strays or adopted a member's dog to serve as a general mascot. Some fire departments also had fire cats and one engine company in New York had a fire monkey.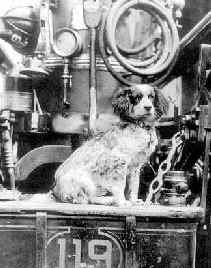 • Police departments had working dogs to help the officers find and catch criminals, but they, too, picked up strays off the street to serve as mascots. One of these strays, Bum, of the 12th Precinct on Mulberry Street, was not only a mascot, but a real life-saving hero.
• Cats were carried on ships for many reasons, the most important being to catch mice and rats. Mascot cats were in high demand, because sailors believed they had miraculous powers that could protect ships from dangerous weather. God forbid a cat mascot fall overboard: It was thought that this would lead to a terrible storm that would sink the ship — and if the ship was able to survive, it would be cursed with nine years of bad luck.
Kraft's Three Little Kittens
Fire stations, police stations, and ships may have been great places to live for our furry friends, but could any of these places top a cheese factory for kittens? I imagine the three little kitties in this story were living the high life at the Kraft-Phenix cheese company plant in 1928, what with all that easy access to cheese and, no doubt, rodents.
In 1928, the J.L. Kraft Company merged with Phenix Cheese to create Kraft-Phenix. Together, the companies supplied about 40 percent of all the cheese consumed in the United States. Kraft-Phenix was headquartered in the Chicago area, but they also had a New York plant at 65-67 North Moore Street in Tribeca (where, 80 years later, pop star Katy Perry would make her home). On July 17, 1928, three little kitten mascots of Kraft-Phenix made the headlines when they were rescued by the firemen of Engine Company No. 27, led by Captain Thomas J. O'Toole, and the Fire Department Rescue Squad.
Sometime during the working hours on July 16, a gasket of an ammonia compressor and condenser (used in industrial refrigeration) blew out in the basement of the Kraft-Phenix plant. With fumes filling the basement and seeping through to the first floor, the firemen quickly opened a vent and forced the fumes into an elevator shaft by electric fans. None of the 100 employees working that day were affected, and the firemen were able to save thousands of dollars worth of cheese products.
It wasn't until after a new gasket was installed that employees noticed the three small fur balls huddled together unconscious in the corner of the basement. The employees immediately brought the kittens to the firemen still outside, and after several minutes of vigorous artificial respiration, were mewing again. (I'm sure it wasn't as dramatic a rescue as the July 2013 rescue of Lucky, the kitten who has been immortalized in a viral video of his rescue, which was captured on a firefighter's helmet cam). Each kitten was given a saucer of milk, and soon the three tiny mascots were back on the job protecting the cheese from would-be rodent thieves.
Engine Co. 27 – North River Engine Co. 30
Prior to organizing as the Metropolitan Steam Engine Company No. 27 on October 16, 1865, the engine company was known as North River Engine Co. 30 under New York's volunteer fire department. North River was organized July 15, 1858, by B.F. Grant, William F. Searing, William McGrew, and others from Eureka Hose Company No. 54. It was originally headquartered at 153 Franklin Street.
The newly organized Engine 27 was manned by Luke A. Murphy, foreman; Dewitt Beardsley, assistant foreman; James Davis, stoker; Charles Tucker, driver; Edward Kelly, William Stoker, John Stanley, John Murphy, William Mason, Samuel Heister, and Francis Walls, firemen. The company's firehouse was located at 173 Franklin Street, where it remained (save for a brief relocation to 304 Washington Street in 1881) until the company disbanded on November 22, 1975.
The New York Fire Department Rescue Squad
The Fire Department Rescue Squad was formed in March 1915 under Fire Commissioner Robert Admanson. On March 8 of that year, two officers and eight men were assigned to the new squad of "smoke eaters" and located at the Engine 33 station house on Great Jones Street.
The squad was organized for the purpose of meeting peculiar conditions such as shutting off ammonia supplies when pipes burst in cold storage plans; for entering and ventilating drug and chemical plants; for reaching the seat of smoky fires in cellars and sub-cellars; for recovering persons overcome from ammonia fumes or from other gases; and for fighting fires where there was particularly pungent smoke.
The Rescue Squad responded to calls in a specially designed wagon that carried rescue apparatus including life lines and Lyle guns, ladders, smoke helmets, and a mechanical device for cutting steel or iron bars.
Today, the squad is called FDNY Rescue 1, and its headquarters are located at 530 W. 43rd Street. Rescue 1 responds to fires where there are rescue operations that require specialized equipment and training and to incidents that may be outside the capabilities of an engine or ladder company. The main purpose for the company is to rescue firefighters.
On 9/11, Rescue 1 lost almost half of its company when the North Tower collapsed: Captain Terence S. Hatton, Lieutenant Dennis Mojica, Joseph Angelini Sr., Gary Geidel, William Henry, Kenneth Joseph Marino, Michael Montesi, Gerard Terence Nevins, Patrick J. O'Keefe, Brian Edward Sweeney, and David M. Weiss.
North Moore Street
North Moore Street, which was among the streets named by the Vestry of Trinity Church in 1790, was laid out in 1795 and deeded to the city by the church in 1802. The street originally ran from West Street to Varick Street, and later eastward to West Broadway (the old Chapel Street) after that street was extended north through the wetlands.
North Moore Street was named for Benjamin Moore (1748-1816), who simultaneously held the positions of rector of Trinity Church, the second bishop of the Episcopal Diocese of New York, and President of Columbia College in the early nineteenth century. Benjamin Moore was the father of Clement Clarke Moore, who resided on the west side of Manhattan above Houston Street in his estate, Chelsea, and who wrote the poem "A Visit from St. Nicholas" (which later became famous as "'Twas the Night Before Christmas").
No. 65-67 North Moore Street, where the kittens were rescued, was designed by Buchman & Deisler and erected in 1897, replacing three masonry dwellings on the site. The six-story, 45-foot wide warehouse was constructed with No. 63 for real estate developers Denison P. Chesebro & Alexander Brown, Jr., who leased the site from the Protestant Episcopal Society for the Promotion of Religion and Learning in the State of New York.
The wine and brandy dealers Edinger Brothers & Jacobi (later known as Lachman & Jacobi) occupied the building until 1912, followed by the Seeman Brothers (Joseph, Stanley and Sigel W.) wholesale grocery business, Nestles' Food, and Kraft-Phenix Cheese. In recent years, the building was converted into luxury residential condominiums. Pop star Katy Perry and her former husband, Russell Brand, bought a two-bedroom, two-bath duplex condo in the building in 2010 for $2.68 million. Following their breakup, the couple sold the condo to Alexandra Suppes for $2.62 million in 2012.