With Groundhog Day just days away, I wanted to write a story in remembrance of Staten Island Chuck, the poor groundhog that died shortly after Mayor Bill deBlasio dropped her (turns out Chuck was a Chuckette) during the mayor's first prediction ceremony in 2014.
I couldn't find an interesting groundhog story from Old New York, but I did find a story about a hog that lived on a farm in Staten Island's Sandy Ground community. This silly-but-sad hog tale has an interesting historical connection to Dorothy Day, the Brooklyn native who was a renowned journalist and Catholic social activist.
The Great Hog Adventure
In December 1911, Herman Conrad Oechsli, a plumber and part-time farmer in what was then called the Borough of Richmond (the borough was renamed Staten Island in 1975), called on three of his neighbors to help him reign in and slaughter his 400-pound Berkshire hog. John Foster, Robert Brinley, and William Farley all responded to his call for help.
John Foster told Herman that he had once been a cowboy in Wyoming, so he suggested using a lasso to catch the hog in his pen. The hog wasn't too pleased with the lasso — you might say he was fit to be tied — and took off running with Foster dragging behind. Apparently, Foster had gotten a little rusty in his skills, because he had become entangled by his end of the lasso.
The large hog broke through a gate and started running in the direction of St. George. "Stop me!" Foster yelled as the three others chased man and swine for almost a mile. The chase caused quite a stir among residents of the Sandy Ground community, who all gave Foster and the hog a wide berth as they ran down the street.
At last, the giant hog had to stop out of sheer exhaustion, allowing John Foster time to disentangle himself. Needless to say, the story does not have a happy ending for the hog, as John was more than happy to do the honors for Herman.
 The Sandy Ground Community
The Oeschli Farm was located on the outskirts of a small enclave in the Rossville section of Staten Island that is now known as Sandy Ground. Located inland near the island's South Shore in what was once called the Westfield district, Sandy Ground is the oldest continuously inhabited free Black settlement in the United States.
Much has been written about Sandy Ground, so I won't get into too many details, but a brief overview may be of interest to those not familiar with this community's history.
Originally inhabited by the Raritan Indians, the Westfield district of the Borough of Richmond remained largely uninhabited by European settlers until about 1661, when Pieterse Wynant (aka Peter Winant) and some other men established the first permanent European settlement in the area (Wynant's homestead was near the old Blazing Star Cemetery on Arthur Kill Road north of Rossville Road).
Another early settler was Daniel Perrin, a Huguenot from New Jersey who was granted 80 acres of land in what was then called Smoking Point by Governor Benjamin Fletcher in 1692. During the mid 18th century, the area was known as Blazing Star, for a popular tavern of that name. The Blazing Star Ferry, established in 1722, was first operated by Anthony Wright, who paddled folks over the Arthur Kill to Woodbridge Township, New Jersey, for many years prior to the Revolution.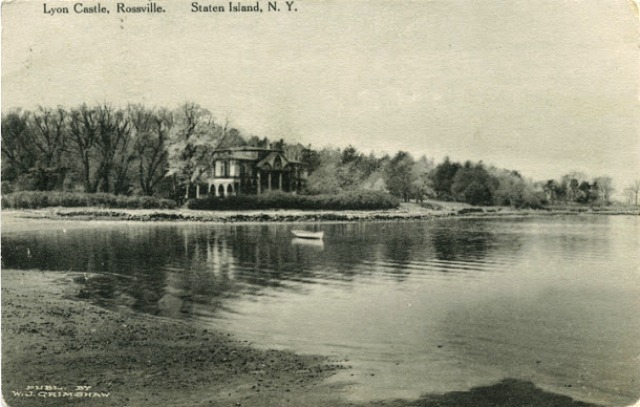 Sometime around 1835, the area formerly known as Smoking Point and Blazing Star was renamed Rossville, after Colonel William E. Ross, a prominent early settler. Ross built his Ross Castle (later called Lyon Castle), a replica of Windsor Castle, on a bluff overlooking the Blazing Star Ferry on the shores of the Arthur Kill. 
In 1828, a year after slavery was abolished in New York State, a free African-American ferry boat owner-operator named John Jackson bought 2.5 acres in the area, which was the first recorded purchase of land by a freed black man on Staten Island. Captain Jackson operated a ferry to New Jersey (and later, to Manhattan); some speculate that he may have played a role in the Underground Railroad, ferrying slaves across the Kill Van Kull to New Jersey.
During the 1830s and 1840s, free black oystermen who had fled Maryland and Virginia came to the island to harvest oysters in Prince's Bay on the island's South Shore. Then in 1850, two New Jersey brothers of African descent, Moses K. and Silas K. Harris, bought property near the intersection of today's Bloomingdale Road and Woodrow Road, which was considered to be within walking distance of the bay (about 2 miles). Although the sandy soil was considered useless, the Harris brothers were able to prosper by growing  strawberries and asparagus on the land.
By the early 1900s, about 150 families — all descendants of these original black setters — were living in the Sandy Ground community.
On April 20, 1963, Rossville was hit by the worst of three brush fires to devastate Staten Island. Although a few remnants of the original Sandy Ground settlement still exist, most of the original houses were destroyed in the fire. Today the neighborhood is dominated by townhouses that went up beginning in the 1970s, when developers began snatching up parcels of land for literally a steal from the black land owners.
For more information or to take a virtual tour of the area, visit Forgotten New York's tour of Sandy Ground or visit the Sandy Ground Historical Society.
The Oechsli Farm and Dorothy Day
Herman Conrad Oeschli was the son of Conrad and Louise Oechsli, two Swiss immigrants who came to America sometime around 1880. The couple purchased a 22-acre farm and farmhouse at 469 Bloomingdale Road, where the family lived for the next 60 years.
Herman Oechsli was born in Manhattan on November 13, 1884, and was married on September 1, 1910, to Caroline L. Woreth, also a native of Switzerland. The couple had a daughter, Carolyne, born in 1912; a son, Frank, born in 1914 (he died in 1919); and a son, Bernard, born in 1915.
In addition to helping out on the family farm and trying catch hogs, Herman worked as a plumber and later as a deputy city clerk.
For many years before and after Herman's death, the Oechsli farm stood unused. Then on August 28, 1950, at the urging of social activist Dorothy Day, the Catholic Worker newspaper purchased the farm for use as a Catholic work camp. They named the camp the Peter Maurin Farm in honor of Dorothy's former co-founder of the Catholic Worker.
Several years later, Dorothy wrote about the farm in Catholic Worker:
Our farm is better than our neighbors, Mr. Gerecke's. It is 22 acres and was owned for the past sixty years by a Swiss family, and well cared for and loved. There is a beautiful little barn, right now being converted into a chapel and conference hall, and the house has eleven rooms, spacious hall and two attics, besides porches, front and back. There is an outer kitchen which we are transforming into a bake shop, where we will bake bread for our New York breadline; there are carpenter shops, toolsheds, chicken coops, pig pens, corncribs, a feed house, carriage shed, blacksmith shop and so on in the way of outbuildings.

There is an attractive woodlot and tiny pool grown over with rushes and water lilies, which can be dug out. There are three acres of asparagus, which provide a work project for all who come, for weeding, hoeing and mulching, and roundtable discussions go on meanwhile. There are pear trees, grapevines, work to do at once, even without tools and materials to do them with.
The work camp at Peter Maruin's Farm thrived for about 10 years — members of the German Bruderhof community even made the farm their home in 1954 — but in 1960 the Catholic Worker sold the land and started a new camp at the Rose Hill estate in Tivoli, located on the Hudson River just north of Rhinebeck, New York.
Today, the Peter Maurin Farm grows much of the food for Manhattan's two Catholic Worker houses and soup kitchens. Eight thousand pounds of kale, onion, potatoes, and other produce are shipped from the farm every year to help feed about 100 people a day on the soup line and about 50 house residents.