Buzzer IV, whom I had with me for eighteen years, was a large, short-haired yellow cat — half Chinese, half Persian — looking more like a small tiger. He was very haughty, but never vicious, and he seldom condescended to make friends with strangers." –Arnold Genthe, photographer, in As I Remember, 1936
Among the more than 1,000 images of Arnold Genthe's photographs in the Library of Congress Collection's digital library, 82 feature his beloved cat Buzzer (actually, he had four cats named Buzzer over the years). Although Buzzer occasionally appears alone in these portraits, he is usually accompanying women, and, in particular, well-known women of New York City's stage and screen.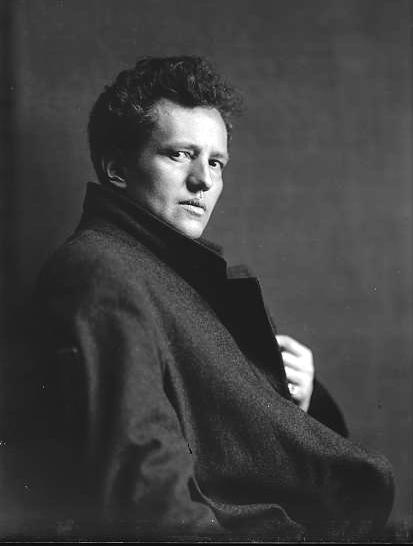 Born in Berlin, Prussia, in January 1869, Arnold Genthe was the son of Louise Zober and Hermann Genthe, a professor of Latin and Greek at the Grey Monastery in Berlin. Genthe followed in his father's footsteps, becoming a classically trained scholar in philology, archaeology, and philosophy at at the universities of Jena, Berlin, and Paris.
In 1894, when he was 25, Arnold was asked to tutor the 15-year-old son of Baron F. Heinrich von Schroeder, who had an estate and a hotel in California. Although his plan was to stay in America one year and then return to Germany to become a professor, Arnold's career took a major turn the day he purchased a camera for a few dollars at a small shop in San Francisco.
Arnold soon became engrossed in taking photos of the city's Chinatown. According to Anna Strunsky Walling, who wrote about Genthe for Town and Country magazine in August 1933, the Chinese would run from him when confronted with the camera, which is why he taught himself to take candid photos of people in action.
Although he is most known as a photojournalist for his amazing photos of the great San Francisco earthquake of 1906, Arnold Genthe revolutionized portrait photography in the early 1900s. By using cameras with fast shutter speeds, he was able to take capture subjects who might be unable, or unwilling, to sit still long enough for a photo that was not blurry. Subjects like cats, for example.
In 1906, Arnold Genthe started photographing women and girls with his cat Buzzer. Over the next 20 years or so, one of Arnold's four cats — all named Buzzer — would feature prominently in numerous portraits. As Arnold Genthe wrote in his autobiography, As I Remember:
"I prefer cats that have a deep purr and for that reason every cat I have owned was called Buzzer."
Arnold Genthe and Buzzer Come to New York
In 1911, Arnold and Buzzer headed east to New York City. Here, the glamorous, rich, and famous of the day — Greta Garbo, Sinclair Lewis, Babe Ruth, J.P. Morgan, John D. Rockefeller, Theodore Roosevelt — all sat still — or not so still — for his camera.
Buzzer did not appear in the portraits of these rich and famous, but he did get to meet many a celebrity at Arnold Genthe's studio.
According to an article in the New York Sun on December 8, 1931, sometime around 1911 Buzzer "wrote" a letter to Oliver Herford's cat, Hafix, in which he told Hafix about human backgrounds and mice-hole golf.
According to reporter Karl K. Kitchen, Hafix replied that he envied Buzzer for always being photographed with warm actressy backgrounds. (And as you and Virginia both know, if you see it in The Sun, it's so.)
Arnold Genthe's Studio in the Thorley Building
From 1913 to 1916, advertisements and notices in several publications state that Genthe's photographic studio was located at 1 West 46th Street, which was attached to the Thorley building on the northwest corner of Fifth Avenue and West 46th Street. This building has an interesting history, and I found some great photos, so I'll take a little detour from Buzzer and venture to West 46th and Fifth.
In 1871, Charles Thorley opened his first flower shop on West Street. Over the next few years, he moved his shop several times, finally settling on the former home of Caroline S. Harper on Fifth Avenue at 46th Street. For the next 40 years, the House of Flowers at 562 Fifth Avenue — and its adjoining sister building at 1 West 46th Street — delighted the thousands who passed by each day.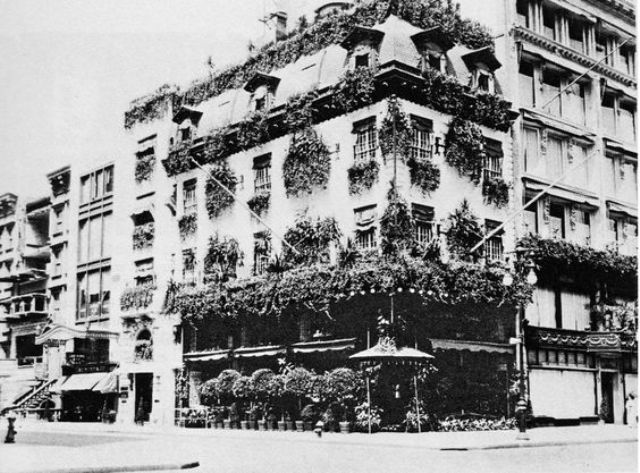 Charles Thorley's House of Flowers at 46th street and Fifth avenue is always filled with dwarf red celosias, ferns, aspidistras and other foliage plants. The 46th street side was lined with bay trees and smaller pyramid box. On each side of the vestibuled doorway, iron pots, suspended from tripods, were filled with rubbers and other foliage. The windows were elaborate with vases of chrysanthemums and the choicest foliage stock—-pandanuses, crotons and palms, while from the top were suspended large baskets of Scottii ferns. The whole effect was stunning and bound to arrest the attention of the thousands that pass by every hour. — "The American florist: A weekly journal for the trade" (1916)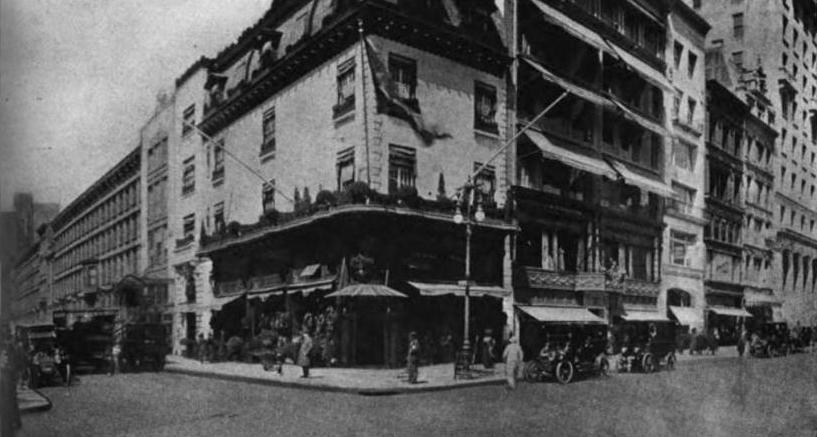 Here is the "Thorley Building" and its adjacent sister building around 1911, which is just before Arnold Genthe and Buzzer moved in with their photo equipment. The Euclid building, immediately to the right, and the other buildings to the right are still standing today, albeit, they look a bit different. 
In May 1919, Tifflin Products, Inc. and Louis Sherry, Inc. took over the lease of the property occupied by Thorley's House of Flowers. Their plan was to raze the four- and five-story buildings on the lot and replace them with a larger structure, about seven stories or so, in which Sherry confections would be sold on the ground floor and offices would be above.
The Final Years for Buzzer IV and Arnold
In later years, Arnold Genthe operated out of a studio at 41 East 49th Street, which was closer to the apartment he rented at 443 East 58th Street in the Sutton Hill neighborhood. Although he never married, he certainly had many women friends who adored Buzzer just as much as he did.
Six years before Arnold Genthe died of a heart attack while vacationing at Candlewood Lake in Connecticut in 1942, the photographer wrote of Buzzer in his autobiography, As I Remember:
"Buzzer was certainly an important figure in my studio and even today, years after his death, he is fondly remembered by young and old. I sometimes was accused of paying more attention to that cat than to people. Possibly I enjoyed his contented purr more than the idle chatter of an inopportune caller. I have not found another cat to take his place."