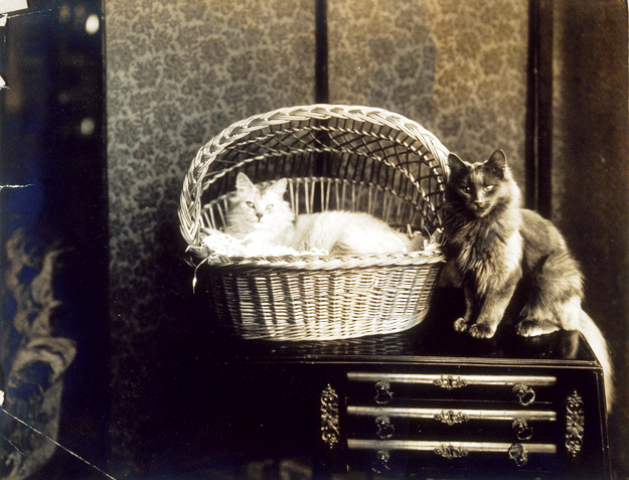 Say cheese! Cat portraits were one of Jessie Tarbox Beals' specialties.
In Part I and Part II of this Old New York Bohemian cat tale, many of the photos were taken by photojournalist Jessie Tarbox Beals.
In this final post in the series, I'll share many of her cat photos and take you on a tour of her Sheridan Square studio in Greenwich Village — then and now.
Born in Canada in 1870, Jessie was a young schoolteacher in 1888 when she reportedly won a small camera for selling magazine subscriptions. Much has been written about Jessie, her career, and her husband, Alfred, so I'll jump to 1905, which is when the couple moved to New York City and rented the old Stanley Studio at 159 Sixth Avenue.
Jessie was a big fan of the bohemian life in Greenwich Village, and she reportedly loved spending time with movers and shakers like Sinclair Lewis, Edna St. Vincent Millay, and Eugene O'Neill.
These acquaintances — as well her long work hours — put a strain on her marriage. In 1917, when their daughter Nanette was just six years old, the Beals separated.
By then, Jessie had opened her own photo gallery and tearoom in a tiny building at 6 1/2 Sheridan Square.
Jessie spent several years in Greenwich Village taking photographs of all that captured its Bohemian nature. Some of her favorite subjects were the tearooms and cafes where writers and artists – and cats — congregated, as well as the Village's crooked alleys and mews (as in Washington Mews, not kitten mews).
The Little Shop at 6 1/2 Sheridan Square
Jessie was drawn to the quaint little tearooms in Sheridan Square, so it's no wonder she set up shop there, too.
She chose an old, one-story converted stable that had previously been home to a saddle and harness maker (1915 and earlier). She shared her small space with an artist by the name of Flora Ta'Bois, and later, with Elizabeth Koenig's Crumperie.
Just next door in the same small building was Romayne Benjamin and Teddy Peck's gift shop called the Treasure Box, which sold everything from handcrafted Persian scarves to odd pieces of jewelry and chinaware.
Jessie called her shop the Village Art Gallery. When she wasn't busy taking photos, she spent time her in shop selling her prized photographs along with tea and postage stamps.
Jessie probably would have stayed in Sheridan Square a while longer if she and her neighbors at No. 7, 8, and 9 Sheridan Square and 76 Grove Street had not been forced to leave. In 1919, these properties were purchased by the Corn Exchange Bank. All of the old buildings were torn down and replaced with a new building for the bank.
Over the next eight years, Jessie moved about New York City, first renting a large loft at 333 Fourth Avenue (while living at 17 West 47th Street), then moving into a duplex apartment and studio at 13 East 57th Street, and then to 715 Lexington Avenue.
In 1928, Jessie and Nanette moved to California, where Jessie specialized in taking photographs of estates for the wives of motion picture executives. Business slowed down after the stock market crash, so she returned to New York in 1934, where she rented space in a darkroom and lived in a basement apartment at 114 West 11th Street.
Jessie continued to take photographs of gardens and estates for many years, although she never regained the success she had enjoyed in earlier years.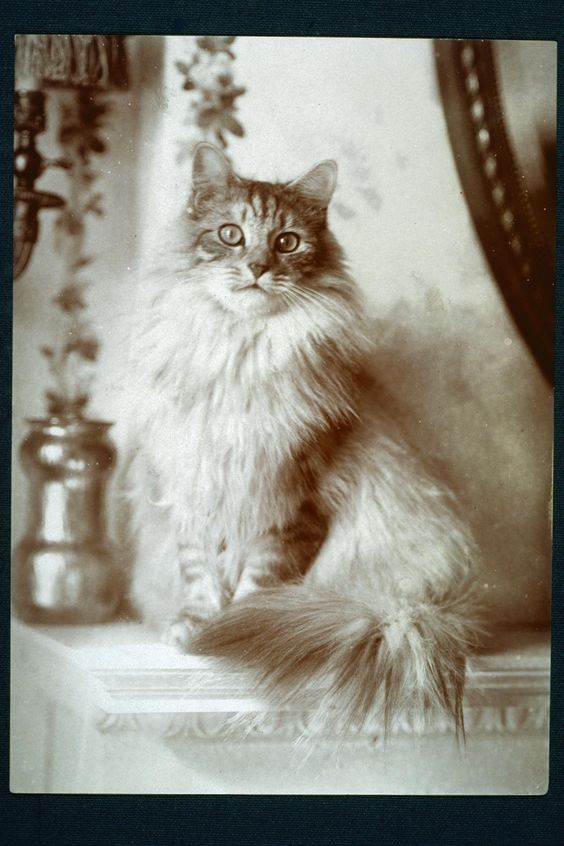 By 1941, a lifetime of hard work and extravagant living had taken its toll on Ms. Beals.  Bedridden and destitute, Jessie was admitted to the charity ward of Bellevue Hospital, where she died on May 30, 1942, at the age of 71.
Although many of Jessie's photographs and negatives were lost or destroyed because she had no safe place to store them, the photographer Alexander Alland was able to purchase numerous prints and negatives from Jessie's heirs, which he published in a 1978 biography titled Jessie Tarbox Beals: First Woman News Photographer.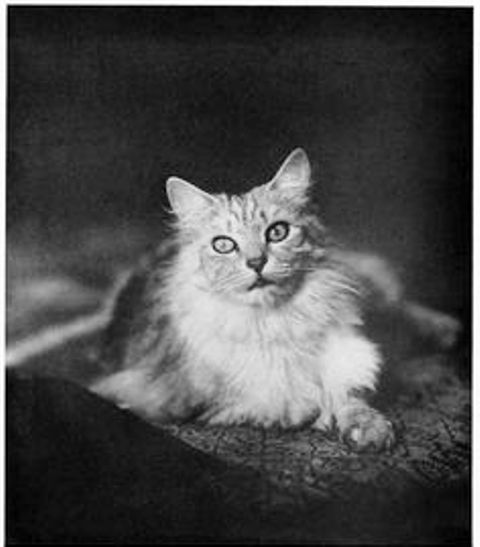 What About Crazy Cat?
This three-part series grew out of one sentence about a black-and-white cat named Crazy Cat, which I read in Anna Alice Chapin's book Greenwich Village.  Crazy Cat was a popular fixture in Sheridan Square; one of the places he liked to hang out was near the studio of Don Dickerman, who made wooden pirate toys that he displayed in his tearoom on Washington Place, which he called the Pirate's Cave.
I don't know if Crazy Cat followed Don when he moved his tearoom to 8 Christopher Street, but I just came across an old news article that sent a few chills down my spine. According to the article, on April 22, 1922, a fire broke out at Don's tearoom, then called the Pirate's Den. Several birds and 15 cats that all belonged to Don perished in the fire. Only one black-and-white cat escaped unharmed.