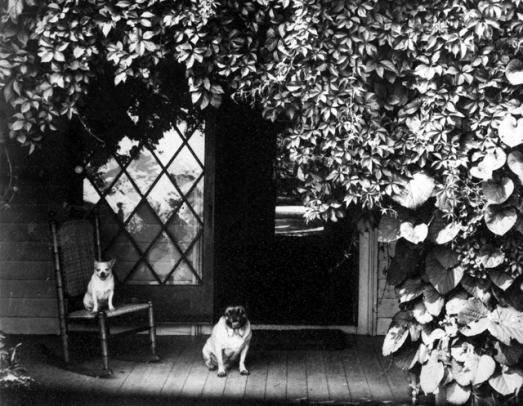 Chico and Punch, the two pampered pooches of photographer Alice Austen, on the porch of Clear Comfort, the 17th-century farmhouse on Staten Island where Alice spent most of her life. Chico and Punch lived with Alice for about 15 years, during which time she took many photos of them. Alice took this photograph in 1893. 
In Part I of this Old New York dog tale, we met Alice Austen, an American photographer who grew up in the Austen family's 17th-century farmhouse in Rosebank, Staten Island. Part I left off on June 24, 1950, the day Alice, once of prominent woman of New York's high society, took an oath declaring herself a pauper.
In Part II, we'll visit the Staten Island poor farm where Alice lived for a short time and briefly explore the history of Clear Comfort, the home where Alice spent most of her life with her family, her lifetime partner, Gertrude Tate, and her dogs, Punch and Chico.