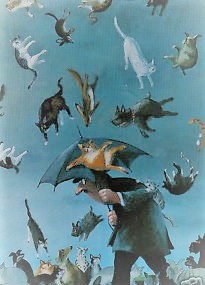 The following cat story of Old Brooklyn is courtesy of The Brownstone Detectives, who first published this tale in March 2017. I take the story one step further by exploring the history around the Grand Street Museum and the land on which it was once located. 
Agent Clark Investigates a Report of Cruelty to Cats
In December 1887, Agent Frank Clark of the Society for the Prevention of Cruelty to Animals (SPCA) received a letter from a resident of the Eastern District in Brooklyn notifying him that cats were being abused during the production of a musical comedy called the "Soap Bubble" at the Grand Street Museum in Williamsburg. According to the letter writer, a large number of cats were being used as shooting targets by the actors during the first act of the play.