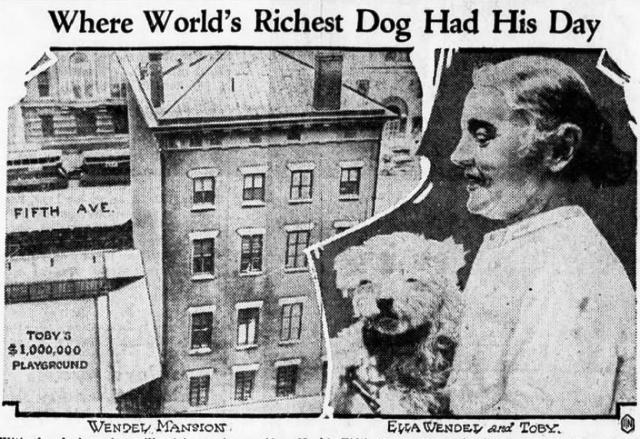 "The public clamored for news of this wealthy family—celebrated as much for its celibacy as its eccentricity—and the press obliged. Despite a fortune built on fur and real estate, the eight Wendel siblings shunned high society, ensconcing themselves in an antiquated house of mystery amid the cacophonous commerce of midtown Manhattan. There, starved of society by a tyrannical brother, the seven sisters cuddled lapdogs instead of sweethearts. With stingy allowances and shabby clothes, they slipped into spinsterhood—and perhaps, it was whispered, insanity."—Lori Chambers, The Fabulous Wendels, Drew Magazine
The "Weird Wendels"
According to legend, when New York City millionaire Ella Wendel passed away in her Fifth Avenue mansion in 1931, she left her entire estate – valued at about $30 million — to her French poodle, Toby. This large inheritance, which was reportedly passed on to generations of poodles named Toby, made the Wendel dog and all his heirs the richest dogs in the world.
The story of Toby's inheritance is a great story to tell, but sadly, it's only a tall tale. The story of Ella Wendel, however, is extraordinary. Actually, it's right out of the pages of Charles Dickens' Great Expectations.
Picture Miss Havisham, the wealthy and eccentric spinster who lived in her ruined mansion in the early 1800s…
In 1856, John Daniel Wendel built a red brick mansion on the northwest corner of Fifth Avenue and 39th Street. John's father, John Gottlieb Wendel, an associate and in-law of John J. Astor, had earned a fortune, first in fur (he and John Astor did their fur business in a little on house on Maiden Lane), and then in buying and leasing large chunks of Manhattan real estate. The younger Wendel used some of that wealth to furnish the mansion with every luxury of that age.
According to the 1870 census, John D. Wendel lived in the home — valued at $5,000 then — with his wife, Mary Ann, seven servants, and eight children: John Gottlieb Wendel II, Rebecca, Augusta, Josephine, Henrietta, Georgiana, Mary, and Ella. When the patriarch died, his huge inheritance was divided equally among the eight children.
And therein began the making of the "Weird Wendels."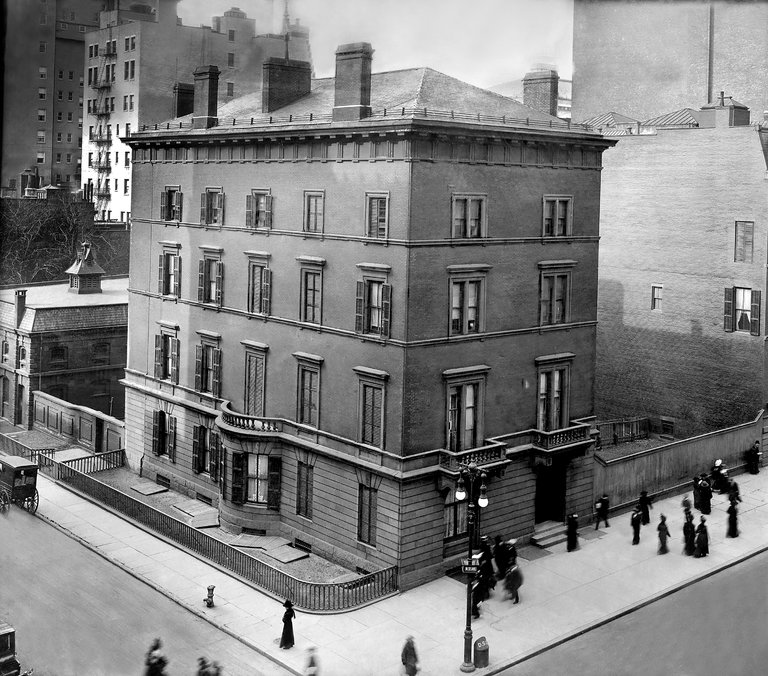 Even in the late 1800s, the Wendel mansion looked a bit out of place at 442 Fifth Avenue — and passersby couldn't help but try to peak over the high wall. Drew University Library.
From the moment John Gottlieb Wendel II became the man of the house, he was obsessed with holding on to the family's money. His biggest fear was that his sisters would marry and take their share of the fortune away from the Wendel family. So he turned the mansion into a prison for his sisters, barricaded the front door, and locked the key.
The Wendel House of Mystery
A story published in The Age newspaper in 1960 provides a glimpse into the Wendel world. According to the article, John locked up 10 of the 20 rooms, closed off the dining hall, emptied the glass winter garden of its tropical plants, and built a 12-foot wall around the yard.
He kept the front door permanently barred and shuttered, using only the tradesman's small entrance to get in and out of the home. He nailed wooden boards over the ground-floor windows, and refused to install lights or telephones. He sold the piano and four of the family's carriages, and refused to spend any money on repairs.
What he did to this grand mansion was a shame, but what John did to his sisters was a travesty and a sin. According to The Age, every evening John would meet with his sisters and warn them of fortune hunters who were out to get their money.
He'd tell them that they were ugly, and that no man would ever marry them except for their money. He banned all male visitors and alcohol from the house, and allowed his sisters to go out only one night a week (wearing Victorian-era clothes), as long as they were accompanied by him. Can you say Taliban?
One time, Georgiana tried to escape by booking into a boarding house under a false name. John hired 29 private detectives and even paid beggars and boot-blacks to look for her. She was eventually found at the boarding home, and John had her committed to an asylum for the mentally insane, where she spent the rest of her life.
Only Rebecca was able to successfully escape, but that didn't happen until 1903, when she was 61 years old. She married Professor Luther A. Swope, and, just as John had feared, took her share of the fortune with her.
One by one the siblings passed away. First Augusta and Henrietta, followed by John, who died of a stroke in 1914, and then Josephine, who died four months later. With Georgiana still in the asylum (where she died in 1924), and Rebecca with her husband, only Mary and Ella were left in the old house.
For the next ten years, Mary, Ella, and a small dog (also named Toby) lived within three rooms as the house fell apart around them.  To conserve money, they lit candles and burned only a few gas lamps. Meanwhile, thousands of dollars poured into the bank from the family's vast real estate holdings every week.
Following Mary's death in 1925, Ella was left alone in the house with her French poodle, Toby. Understandably, she pampered the dog to no end.
According to news reports, Toby had his own silken bed (a miniature four-poster bed that was an exact replica of Ella's bed) and a velvet-covered dining table, where Ella would bring him breakfast each morning.
He also had his own butler to wait on him, and a fenced-in exercise yard reportedly worth over $1 million (as the story goes, Ella had received an offer of $1 million for the land, but she refused to sell because "it was Toby's exercise place.")
In the late 1920s, Ella was reported seen "creeping down Fifth Avenue" every Monday morning wearing a dilapidated hat and unkempt shoes, and wheeling Toby in a baby carriage. At night, she'd let him play in the yard. Other than that, she never appeared in public.
On March 13, 1931, Ella Wendel died in her sleep in the home at the age of 78. Only about 19 "friends" and one distant relative — Stanley Shirk, the nephew of her deceased brother-in-law — attended the services at at her home. There, at the end of a semi-dark hallway (Ella had put in a few electric lights near the end of her life), with Toby at the head of her coffin, the small group listened to Dr. Nathan A. Seagle, rector of St. Stephen's Episcopal Church on West 69th Street, read from the First Corinthians.
As the group broke up, Toby ran down the hall following the procession. He stood on guard until the thick oak doors of the Wendel mansion were closed.  His loving mistress was taken away and buried in the Wendel plot at Trinity Cemetery, at 155th Street and Broadway.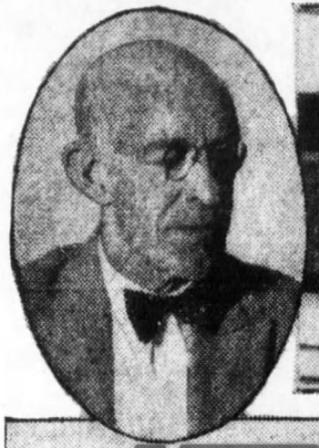 Over 2,000 people eventually showed up to claim a share of the estate, including Thomas Patrick Morris (left), who claimed he was the son of John Wendel. Thomas claimed that John had secretly married Mary Ellen Devine at the Castle Garden in June 1876 (Thomas' foster mother was Margaret Morris).
In the end, most of the $30 million estate went to various charities, including Drew University, to which Ella Wendel bequeathed the house, now valued around $4.5 million.
Following Ella's passing, Toby's life took a turn for the worse. With no special butler left to care for him, Toby was made to sleep in a plain basket in the kitchen and to eat his food like any ordinary dog from a saucer. At night he'd wander inconsolably through the dark, empty house looking for his mistress.
In October 1933, a veterinarian was called in to put Toby humanely to sleep. He was buried on the grounds of the Wendel summer estate in Irvington, New York, in accordance with the last wishes of Ella Wendel.
Although Ella Wendel had requested that the home — complete with its gas lighting, zinc tubs, and 157 family trunks — be maintained as a memorial, Drew University chose instead to create a Wendel memorial room on its campus in Madison, New Jersey.
The university leased the Fifth Avenue property to the S.H. Kress store chain, which demolished the home and built its flagship five-and-dime store there in 1935.
Following a preservation battle, the Kress building was demolished and replaced by the 27-story Republic National Bank, pictured below, which was completed in 1986. Today all that remains of the old Weird Wendel mansion are bizarre tales like this one and a memorial plaque on the bank building (which thousands of people pass each day without even stopping to read.)