Every once and a while I come across an old animal story that goes into my special folder called "You Can't Make This Stuff Up." The following Old New York City cat tale is somewhat funny, very bizarre, and a bit tragic. It most certainly belongs in my special folder.
Once upon a time, a young woman was obsessed with blue…
Blue eyes, check. Blue clothes, check. Blue rugs and draperies, check. Blue walls and electric lamp shades, check. Blue china and blue satin chairs, check. Blue cats…hmmm
Miss Margaret Owen was a wealthy and temperamental petite young lady who just loved the color blue. Everything she owned was blue – well, almost everything. The blue-eyed singer had even tried out for the chorus in "The Blue Kitten," a musical comedy based on the book by Otto Harbach and William Gary Duncan, and directed by Arthur Hammerstein.
She said blue soothed her and calmed her sometimes overwrought nerves.
Although she was only 22 years old, Margaret had her own spacious apartment in a five-story brownstone and brick apartment building in midtown Manhattan. She also had a maid to do all her washing and cleaning. (All courtesy of her wealthy father, H.W. Owen, a former stock broker who had retired to Florida.)
One day in January 1922, Margaret's maid took the day off. That left Margaret alone with a pair of yellowing wool stockings that were driving her mad. She simply could have no peace until she did something with those stockings.
So Margaret rolled up the sleeves of her blue smock and turned on the hot water faucet for the marble basin in her blue dressing room. She poured in a bottle of indigo and a few packets of Diamond–brand blue dye. Her new blue stockings were going to look so perfect with her pretty blue suit…
Well, everything was going fine until Lilly, one of Margaret's two white Angora cats, came bounding into the room. When the curious, eight-month-old kitty dipped a white paw into the blue basin, Margaret clapped her hands in delight!
As it turns out, Margaret had recently bought a blue leash for her kittens, because she had heard that women were walking their cats on the boardwalk in Atlantic City. She thought, wouldn't it be romantic to be the mistress of a very beautiful blue cat that she could parade down the boardwalk? And wouldn't a blue cat make a great gift for Arthur Hammerstein?
Oh heck, wouldn't it be great to also give Otto Harbach a blue cat while she was at it? All she had to do was dunk her kitties in the blue water, just like her stockings…
A Brief History of Margaret Owen's Neighborhood
This story takes place in Margaret's apartment building at the northeast corner of Sixth Avenue and West 50th Street. This part of Manhattan was the site of the 18th-century Hopper Farm, aka, The Great Kill Farm, a large 300-acre estate that extended from about Sixth Avenue to the Hudson River between 48th and 55th streets. (The Great Kill was a small stream that emptied into the Hudson River at the foot of what is now 42nd Street.)
Over the years, two large lots of the Hopper estate on the east side of the Bloomingdale Road (Broadway) were conveyed to numerous people, starting with John Horn in 1782, followed by his daughter Jemima and her husband Matthew Dikeman (1815), James Meinell (1822), and the New York Dry Dock Company (1843).
In 1859, all of the old Hopper land along Sixth Avenue between 50th and 51st streets was still vacant, save for a few shanties once occupied by the piggeries of Hogtown (the pigs had all been cleared out that year, in what The New York Times called "The Great War on the New York Piggeries"). One such shanty still standing on the very site of Margaret's apartment was occupied by an Irish hermit named Billy who killed himself in 1860.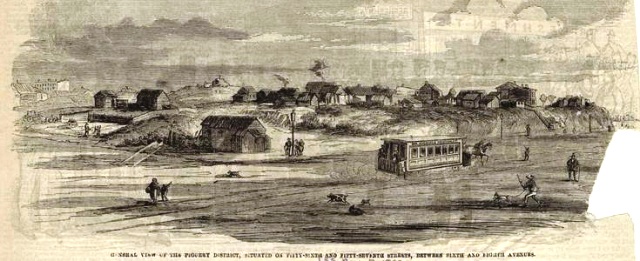 The district of Hogtown extended from 50th Street to 58th Street, between Sixth and Seventh Avenue. This illustration is a view of Sixth Avenue at 56th and 57th streets sometime prior to 1859. Today this is the site of Carnegie Hall, constructed in 1889.  
That year (1859), Joseph D. Beers, who now owned the land on the northeast corner of Sixth Avenue and West 50th Street, signed a covenant with the Trustees of Columbia College, who owned the adjacent property (what would later be the apartment buildings shown above at #1 to #69).
Under the covenant, the land could only be used for first-class dwelling houses and never for any business purposes. The covenant was supposed to be binding to all persons who owned the land from that day forward.
In February 1871, Joseph Beers conveyed his land to Anna M. Lynch, who built a brownstone with a basement office that was used for a real estate business. The trustees of the college took Mrs. Lynch to court for breaking the covenant, but she ended up selling the property to Thomas Thatcher during the trial.
By this time, the Metropolitan Elevated Railroad had been erected along Sixth Avenue and many businesses were in the area, so the case was dismissed. Shortly thereafter, the block was filled with four- and five-story brownstone and brick apartment buildings like the one where Margaret lived with her Angora cats.
Back to Lilly and Otto…
I know you're dying to know what happened to the blue-dyed cats, so stay tuned for Part II of this crazy cat story. Meow.