In this final chapter of Crispin's Crispian, I'll tell the fascinating story of what happened to the old New York City farmhouse on York Avenue in Lenox Hill where his famous pet mom, Margaret Wise Brown, wrote her final children's book, Mister Dog: The Dog Who Belonged to Himself.
In Part II of this Old New York dog tale, we left off in the 1940s, when Margaret Glass and her husband Owen Healy occupied their two-story brick building at 1335 York Avenue and ran a neighborhood dining room on the property. During the late 1940s and early 1950s, children's picture book author Margaret Wise Brown rented the small, 18th-century cottage hidden on the back lot behind the Healy's brick apartment house for use as her studio.
Born in Brooklyn's Greenpoint neighborhood in 1910 (Margaret and her family lived in an existing two-family house at 118 Milton Street), Margaret spent much of her career in New York City. She first lived in her own flat at 21 West 10th Street, and then, during her long affair with Blanche Oelrichs (stage name, Michael Strange, a wealthy socialite and ex-wife of John Barrymore and Harrison Tweed), she shared an apartment with her partner at 10 Gracie Court near the East River.
Sometime during the 1940s, Margaret and Michael lived in adjacent apartments at 186 East End Avenue. It was during this time that Michael gave Crispin's Crispian to Margaret. Every day, Margaret would take the Kerry blue terrier to her studio, where he reportedly had full run of the place.
The two-story cottage, called Cobble Court because of the cobblestone court that separated it from the brick apartment building, was reportedly unheated, so Margaret covered the walls of the living space with animal fur (don't ask me how she did this). She spent her days writing in the cottage, and sometimes at night she would host dinner parties there.
It was here that Margaret wrote Mister Dog: The Dog Who Belonged to Himself,  a charming picture story about a conservative dog who lives in a two-story doghouse and wants to find a little child to be his friend. The book was inspired by Crispin's Crispian, the setting was no doubt based on the Cobble Court cottage, and there's a good chance that the child is based on Albert Clarke, a little boy who lived in a tenement that Margaret passed by every day to get to her back-lot cottage.
Margaret's Final Days
In 1952, 42-year-old Margaret met 26-year-old James Stillman "Pebble" Rockefeller, a bearded sailor who descended from Andrew Carnegie. Although the two were engaged, they never got the chance to marry. That year, she was diagnosed with an ovarian cyst while in France. Although she lived through the surgery, she died two weeks later on November 13 of an embolism.
Although she had supposedly asked to leave Crispin's Crispian in the care of an old friend, I came across a news article that stated her sister, Roberta Rauch of Jamaica, Vermont, was bequeathed $20,000 to take care of the famous terrier. Albert Clarke, the little boy from the tenement, was reportedly willed the royalties from most of Margaret's books published up to the time of her death.
Cobble Court's Not-so-Final Days
From about 1950 to 1966, the Roman Catholic Archdiocese of New York tried to persuade Margaret Glass Healy and her brothers to sell the property, including the two houses and the land. They finally reached a deal, and the property was sold for about $75,000.
At this time, the little farmhouse was being rented by Swedish-born Mr. and Mrs. Sven Bernhard. They had made extensive renovations to the home since moving there in 1960, and did not want to move when the archdiocese ordered them out to make room for a large nursing home (the Mary Manning Walsh Home for Aged at 1339 York Avenue).
So they made a deal: the couple would leave, but only if they could take the house with them. With the help of architect William C. Shopsin, they purchased a vacant 3600-square foot lot for $30,000 on Charles Street and made arrangements for the house be moved to Greenwich Village.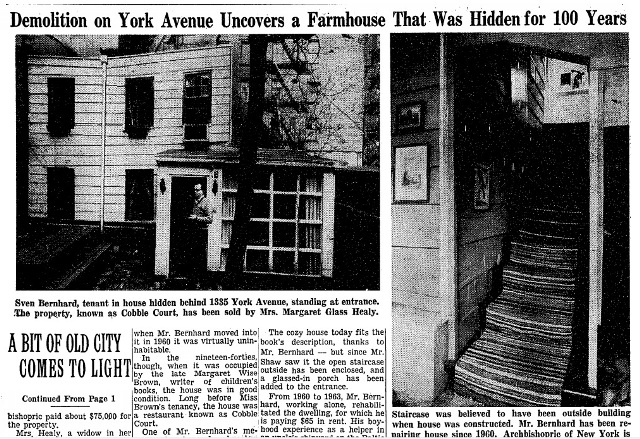 On March 5th, 1967, the farmhouse (including the cobblestones from the courtyard) was loaded onto a flatbed and brought to the vacant double lot off at Charles and Greenwich Street (most city lots are 25 feet wide, but since the house is 26 feet wide, the couple had to purchase two lots to accommodate it). As the truck pulled away, Mrs. Bernhard exclaimed, "It's saved! It's saved!"
The Bernhards continued living in the home on Charles Street for twenty years. They sold the house for about $725,000 in 1986 and moved to Mystic, Connecticut.
In 1988, the house was purchased by its current owners, Eliot Brodsky and Suri Bieler. The couple worked hard to restore it, adding a 540-square-foot addition when their son was born that earned them an award from the Greenwich Village Historical Society for its canted angles that match the original house.
"It's as if a farmhouse, in the manner of a spaceship, fell from the sky and landed smack in the middle of a dense urban setting."–Off the Grid, 2011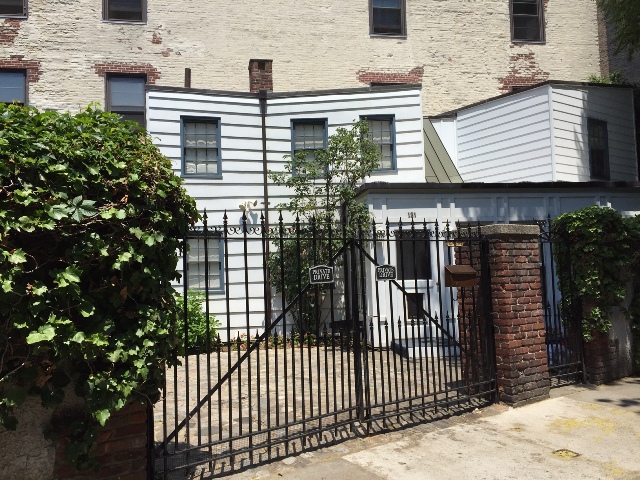 Today, the six-room, wood-frame house, with its well-manicured yard and driveway, looks very much out of place at 121 Charles Street. Photo by P. Gavan