In my last post, I wrote about Donald Burns, an animal dealer who lived and sold wild animals on Roosevelt Street in New York City's deep Lower East Side. While doing research for this story, I came across an article in The New York Times about Morgan L. Phillips, the Gypsy of Cherry Street.
According to the article, Morgan Phillips was an old circus man who lived in a canvas tent in an empty lot at 40 Cherry Street, just south of Roosevelt Street. For over a year, he had been living there with his wife, their grandson, a horse, and some dogs. Given the interesting history of 40 Cherry Street (and the street in general), I couldn't resist learning more about this man and telling his story.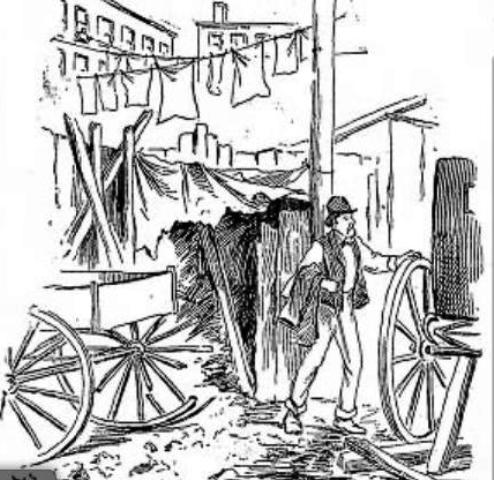 Although he has short hair and looks well dressed in this illustration, according to an article in The New York Herald on March 5, 1894, Morgan L. Phillips was clean shaven with a grey goatee. His clothes were rough and shabby and covered with patches, and his hair was long and badly tangled.
In June 1893, Morgan L. Phillips and his wife, Clarissa, pitched a tent in an empty lot at 40 Cherry Street, adjacent to the large Gotham Court tenement complex. Here they lived for about eight months with their grandson, a horse, and a few dogs. On February 14, 1894, Morgan Phillips told his life story to a newspaper reporter and Policeman O'Connor of the Fourth Precinct police station on Oak Street.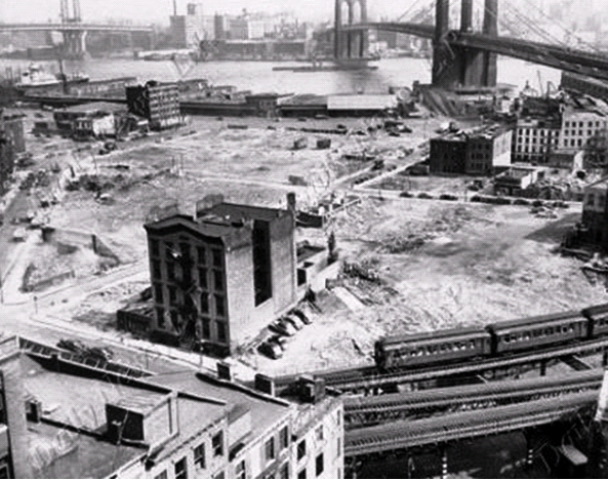 In 1870, the Fourth Precinct station house, which was one of the oldest in New York City, was replaced by a new station house at 9–11 Oak Street, near Roosevelt Street. The complex included a four-story main building and two-story rear building for housing prisoners and vagrants. The station house, seen standing alone around 1949, was among the last structures to be demolished when the neighborhood was demolished to make way for the Governor Alfred E. Smith Houses. (Museum of the City of New York Collections)

Captain Morgan L. Phillips and the Erie Canal

Born in New York City around 1817, Morgan L. Phillips reportedly spent much of his young adulthood on the road. During the 1840s, he owned a fleet of Erie Canal packet boats and was captain of the Jesse Hawley. He was very successful in this business before the railroads took over, carrying as many as 100 passengers between Buffalo and Albany on a regular basis and charging $7 per trip.
"I could have been mayor of Buffalo if I'd wanted," Morgan told a reporter for the New York World in June 1893.
I cannot confirm that Morgan Phillips was captain of a packet boat called the Jesse Hawley, but Hawley, a flour merchant from Canandaigua, New York, was the first to propose the construction of a canal from the Hudson River to Lake Erie. The Erie Canal, running 363 miles from Albany to Buffalo, opened in 1825. Hawley died in 1842, so it's very possible that a canal boat was named in his honor. And it's just as probable that Morgan Phillips was the captain of this boat.
After the railroads were completed, Morgan invested his earnings in a traveling circus, which is how he met his Canadian wife, Clarissa (a circus equestrian rider), and adapted to living in tents. During this time – the late 1840s and early 1850s—his brother supposedly made a fortune as a 49er in the California Gold Rush.
In 1852, give or take a year, Morgan settled back down in New York City and resumed working with horses. According to an article in the New York Herald in March 1894, Morgan once owned the New York Bazaar, a stable at 40 New Bowery (present-day St. James Place), from which he operated a livery business.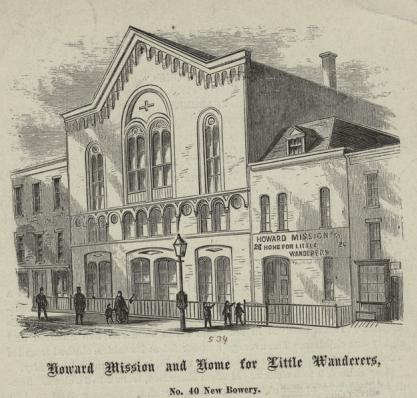 In the 1850s, Morgan Phillips reportedly owned a stable at 40 New Bowery called the New York Bazaar. The stable was replaced by the Howard Mission and Home for Little Wanderers in 1867 (the cornerstone was laid on May 15, 1867). The mission, a successor to the Fourth Ward Mission, cared for destitute children by providing clothing, food, and lessons in reading and singing. (New York Public Library Digital Collections)

According to the 1855 Census, Morgan and Clarissa lived in an apartment on or near Canal Street with their one-year-old son, Albert. Morgan's occupation was listed as "coachman." Then in 1857, according to a news article about a hack driver who had assaulted Morgan Phillips, the family was living at 116 Mercer Street.
M.L. Phillips and the New York Olympic Circus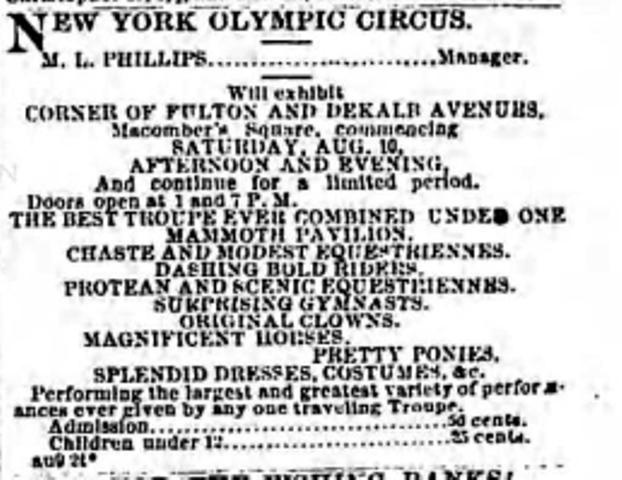 In the 1860s, Morgan L. Phillips was manager of Tom King's Olympic Circus. According to advertisements in the Brooklyn Daily Eagle in October 1863 and August 1867, the circus had afternoon and evening performances at the "Old Circus Lot" in Macomber Square at the corner of Fulton Avenue and DeKalb Avenue in Brooklyn. Equestrian acts, clowns, gymnasts, and a performing dog named Jeff were some of the highlights of the Olympic Circus.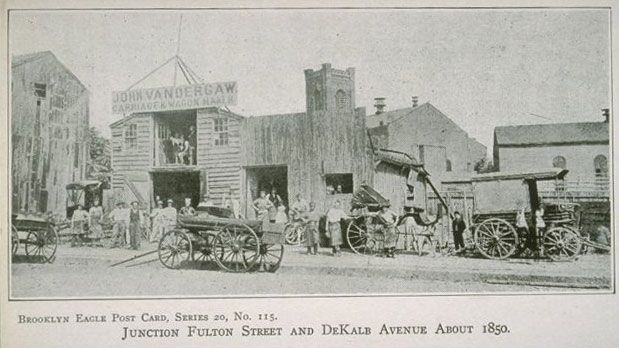 In the 1850s and 1860s, Macomber Square, at the junction of Fulton Street and DeKalb Avenue in Brooklyn, was the site of a circus lot and pavilion, where circus men like Dan Rice, Tom King, and Morgan Phillips would pitch their tents for a week or two as they made their way across America with their traveling circuses. Pictured here is John Vandergaw's wagon and carriage business (22 DeKalb Avenue), on land that is now occupied by the old Dime Savings Bank, and the old Fleet Street Methodist Church, constructed in 1852-53.
In the 1870s and 1880s, Morgan returned to the livery business. According to the 1880 Census, he and his wife lived at 90 Doyers Street with their son Albert, his wife, Emma, and their two young sons, Albert and Freddy. Morgan listed his occupation as a "stableman" and Albert as "hack driver" (he probably worked for his father's livery business). Morgan stored his old circus paraphernalia on the property and entertained the neighbors – who called him Buffalo Jack — with his two trick horses.
At some point during the 1880s, Morgan and Clarissa moved into an apartment at 11 Doyers Street in New York's Chinatown, pictured here at the bend in the road (the Mandarin Garden). The lower two floors of this building are still standing and are today occupied by a hair salon and the Nom Wah Tea Parlor, the oldest dim sum parlor in New York City. The top two floors were demolished following a deadly fire that killed seven people at 11-17 Doyer Street in 1939.
The Gypsy of Cherry Street
In June 1893, Morgan Phillips got permission from former New York City Mayor Smith Ely (1887-1888) to occupy the fenced-in lot at 40 Cherry Street. (Smith Ely had purchased the lot in 1890.) There, he set up a half tent/half shanty with a separate stall for his horse and dogs. All around him were brick tenement buildings, like the massive Gotham Court.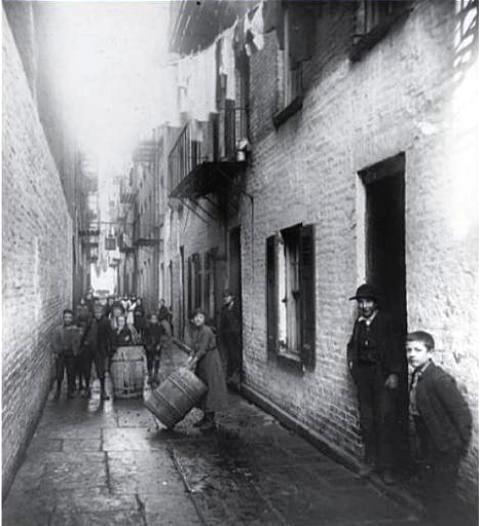 Morgan's neighbors included everyone who lived on Cherry Hill in the Gotham Court tenement complex. This "model tenement" developed in 1850 by Quaker philanthropist Silas Wood comprised two rows of six, five-story tenements standing back to back and extending 234 feet back from Cherry Street. This photo of Gotham Court at 38 Cherry Street was taken by Richard Hoe Lawrence around 1885. (New York Public Library Digital Collections)
According to neighbors, every night around midnight Morgan would harness his horse to an old hack cab and drive to Union Square, where he worked as a cab man. He'd return in early morning and retire to the tent with his horse until noon. In the afternoon, he'd tinker in the lot, mending pushcarts and carriages or watching over the paraphernalia that he stored for other circus men and showmen.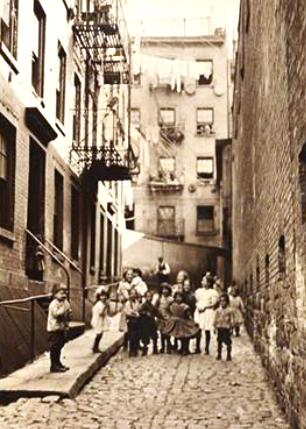 For many months, the neighborhood ruffians — like these pictured in Blind Man's Alley at 26 Cherry Street in 1890 — taunted Morgan Phillips by throwing rocks at his tent and his dogs. The boys called him the Gypsy of Cherry Hill. The mothers were all afraid of him, and often accused him of kidnapping their children. Policeman O'Connor came to his rescue on several occasions, until it all came to a sudden end in the winter of 1894. 
Next: Part II, the Final Straw on Cherry Street
In Part II of this old New York tale, I'll share the sad conclusion to this story and explore the fascinating history of 40 Cherry Street.