"When you leave the sunny [Sheridan] square, you will enter the oddest little court in all New York; it has not to my knowledge any name, but it is the general address of enough tea shops and studios and Village haunts to stock an entire neighourhood. The buildings are old—old, and, of course, of wood. These artist folk have metamorphosed the shabby and dilapidated structures into charming places."– Anna Alice Chapin, Greenwich Village, 1920
Crazy Cat and the Pirate Man
In 1916, Don Dickerman opened a tearoom called the Pirate's Cave at 133 Washington Place in Greenwich Village. Tearooms were all the rage at this time, particularly around Sheridan Square, where one could find such quaint eating establishments – many of them in the tiny, dark basements of old frame buildings — such as the Mad Hatter, The Mouse Trap, The Black Parrot, Down the Rabbit Hole, and Will O' the Wisp.
The Pirate's Cave was what one would call a "theme restaurant," and was no doubt the precursor to such places as the Medieval Times dinner theater.  As Anna Alice Chapin wrote in her book Greenwich Village (1920):
"It is a very real pirate's den, lighted only by candles. A coffin casts a shadow, and there is a regulation "Jolly Roger," a black flag ornamented with skull and crossbones…There is a Dead Man's Chest too,—and if you open it you will find a ladder leading down into mysterious depths unknown."
Although Don would eventually expand and bring his buccaneering concept to other cities, the original tearoom on Washington Place primarily served as a place to display the hand-painted pirate-themed toys that he made in his Sheridan Square studio.
It was this studio that was, at times, guarded by a black-and-white cat named Crazy Cat. As Ms. Chapin writes:
"Following the sign of deep blue with yellow letters which indicates that this is the place where the Hand-Painted Wooden Toys are made, you must climb in the sunshine up the outside staircase, which looks as though it had been put up for scaffolding purposes and then forgotten. You may nearly fall over the black-and-white feline which belongs to no one in any of the buildings, but which haunts them all like an unquiet ghost, and which is known by everyone as the Crazy Cat."
Crazy Cat Gets Around
As author Anna Alice Chapin noted, Crazy Cat did not belong to any one person or shop, per se, but rather made the rounds and was known to everyone. So perhaps it is Crazy Cat that New York Tribune reporter talks about in his article, "If You Want to Find Bohemia" (February 4, 1917), as he describes the Will o' the Wisp tea room at #135 Washington Place in Sheridan Square:
"Ah, this is real Bohemia! Down the narrow alley and through the dingy door in a low room with a cat asleep in the best chair. Two young ladies — story writers, they confide — are the proprietresses."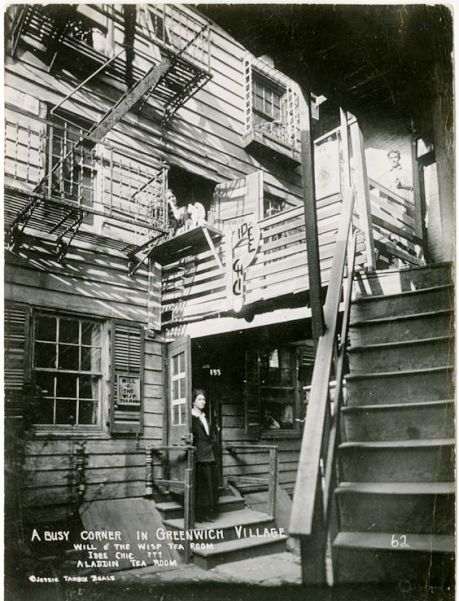 The Will o' the Wisp was one of several tearooms that occupied an 18th-century, four-story wood frame building next door to the Pirate's Cave and Ink Pot on Washington Place. The Will o' the Wisp occupied the lower level; Idee Chic, another tearoom, and the Aladdin Shop, which specialized in coffees and Oriental sweets, were at the top of the steps.
By 1918, The Pirate's Cave, Aladdin Shop, and all the other tearooms where Crazy Cat made his home had abandoned ship at 133 Washington Place and the old wood frame building next door. (Reportedly, Don had been ordered to walk the plank by the judge in a landlord versus tenant dispute.)
Sometime around 1919, Margaret A. Huntington took some funds she had obtained through cotton and stock speculations to purchase all of the three-, four-, and five-story tenements at 129 to 135 Washington Place. She then partnered with cotton broker Spencer Waters and filed plans to construct a $200,000 theater on Crazy Cat's former territory. These plans all fell through.
The Love Triangle (Love Square?)
According to Supreme Court records, sometime around 1923 Margaret Huntington "married" Clinton Mudge Hall, a stock broker. She had met Mr. Hall a year before through their mutual business partner, Spencer Waters,  when she was still married to Mr. Huntington (first name unknown) and Clinton was married to Mary Austin Hall.
Reportedly, the two couples had taken a trip together to Palm Beach, Florida, in the winter of 1922. The couples were accompanied by Spencer Waters, a New York cotton broker who had recently become separated from his wife.
A few days into the trip, Margaret Huntington and Clinton Hall returned to New York City to "conduct business." Mary Austin Hall stayed behind on a yacht in Palm Beach with Spencer Waters. (I have no idea what happened to Mr. Huntington, Margaret's husband.) The new couples become infatuated with each other, and it was decided that if all four got divorced from their current spouses, they could then marry their new loves.
By 1923, Waters had reportedly spent $100,000 on the Washington Place theater project. The project fell through due to zoning law conflicts and Margaret Huntington — now Margaret Huntington Hall — sold the buildings to a woman named Margaret Reilly. Spencer Waters never did marry Mary Austin Hall, and I don't know if he ever got his money back (although he did sue Margaret in court in 1924).
In the end, the buildings were demolished in 1924 and replaced by 129-135 Washington Place (present-day 13-15 Sheridan Square). The six-story and basement elevator building,  pictured below, was designed by John Wooley. The building has 52 residential units — a first-floor, one-bedroom condo was recently listed at $3,395 a month (sorry, no cats or other pets allowed).
In Part II of this bohemian cat tale, we'll visit one other Crazy Cat haunt in Greenwich Village. And in the final part, I'll tell you more about Jessie Tarbox Beals and all the Bohemian cats she photographed in Sheridan Square and around Greenwich Village.