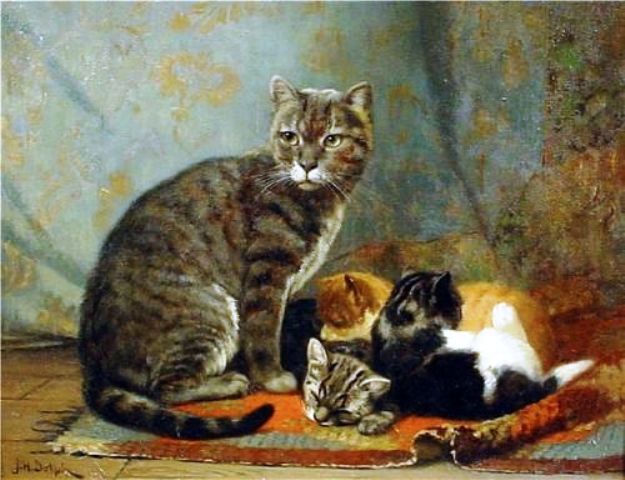 Mother and Her Kittens, John Henry Dolph
"What J.G. Brown has done for the American street urchin, Mr. Dolph has done for the American cat"–The Recorder
Unlike most 19th-century New York City residents who wanted nothing to do with stray cats and kittens, J.H. Dolph welcomed the neighborhood children with open arms (and a few coins) when they brought him baskets of kittens. If the kittens were very young and had no mother, John Henry Dolph was even willing to play mother cat.
Lifting each kitten by the scruff of the neck, he'd gingerly place them on the workbench in the small workshop behind his summer cottage-studio. Then he'd dip a large paintbrush into a cup of milk and touch the tip of the brush to the kitten's mouth.
After all the kittens had their share of milk, Dolph would take a clean sponge and warm water and wash their mouths and faces, just like a mother cat would do. Once a day he would wash them all over.
"It takes some time to feed a family in this way, but I must have my models, and so I must work for them," Dolph told reporter W. Lewis Fraser in 1891. "It's much easier to feed them than it is to keep them clean."
Sometimes Dolph got more kittens than he knew what to do with. He'd always tried to make them all comfortable, whether at his summer cottage in Bellport, Long Island, or in his New York City studio at 58 West 57th Street. After all, cats and kittens were his models and his meal ticket.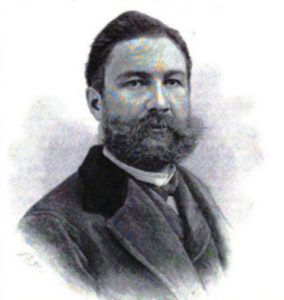 Carriage Painter Turned Cat Painter
Born near Lake George, New York, in 1835, John Henry Dolph became an apprentice to a carriage painter at the age of 14. In the 1850s, he painted portraits at a studio in Cleveland, Ohio. Then after moving to New York City in 1864 (three years after the death of his first wife, Flora Theresa Wiggins) he became a prominent landscape painter specializing in farm scenes.
As Dolph told reporter Fraser in 1891, it was soon after he returned from Europe, where he studied with the celebrated horse painter Louis van Kuyck, that he decided to paint his first kitten. He had a little $12 gold frame in his studio, so he thought a kitten would be perfect for that.
Dolph didn't expect anything great to come of this painting when he sent it to an auction house. So he was quite shocked when the auctioneer sent him $100 for it.
He tried painting another cat, and then another. The more the whiskered artist painted cats, the more the public demanded his cat paintings. Soon he was known only for his cat paintings. As he told the reporter, nobody paid any attention to his human portraits or landscapes.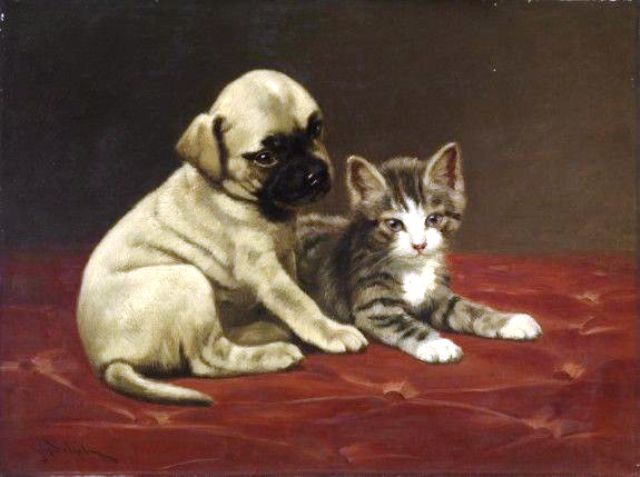 Although his specialty was cats and kittens, J.H. Dolph was also an accomplished puppy painter.
He titled this work "Best Friends."  (As Dolph once told a reporter, "I find it a little more difficult, I think, to find satisfactory names for my pictures than to paint them.")
J.H. Dolph's Studio in New York City
Following a fire in 1889 that destroyed the contents of his studio in the YMCA building on 23rd Street, John Henry Dolph moved into the Sherwood Studio Building at 58 West 57th Street. As W. Lewis Fraser wrote in his article, An Artist Who Loves Cats and Dogs, and Paints Them, the Sherwood was "one of those great, ugly houses called studio-buildings, ever so many stories high, which rich men build for artists to live in, if they can afford the high rent."
Constructed in 1880 by John H. Sherwood, a banker and boot maker turned real estate tycoon and art collector, the seven-story brick Sherwood Studio Building was the first apartment house in New York City designed specifically for artists. It featured  44 apartments, each with a 15-foot-high studio and one or two bedrooms for the artists and their families. Modern amenities included electric-bell signals, speaking tubes, gas service, and an over-size elevator to accommodate giant paintings.
 Although the building was reportedly "cold and comfortless," with row upon row of doors in hallways without carpeting, it was like something out of a fairy tale inside Dolph's studio. As Fraser described:
"Once in the studio you think that you are in one of the rooms of some old palace in Europe. Here are beautiful eastern carpets in the soft, rich colors which artists love; great high-backed chairs all carved, brought from Italy, chairs on which knights and ladies have sat hundreds of years ago; old, curious musical instruments which make you wonder what they would sound like and how they were played; a carved chest which some Venetian noble gave to his daughter…"
And cats. Let's not forget the cats and the kittens, who would lounge on the old carved chests, tear and claw at the Persian rugs, and organize kitty concerts at night that, as Dolph noted, "were a trifling distracting to my neighbors."
It wasn't long after Dolph started painting cats and kittens that he realized a New York City artist's studio was no place for a feline. He gave away a few of his cats to the clubs that he belonged to (including the Salmagundi Club, Lotus Club, and the appropriately named Kit Kat Club of avant-garde artists). But that didn't solve his need to be surrounded by cats of all kinds.
A summer cottage near the water, he decided, was the perfect place to house his model cats. So it was at his summer studio, just a few blocks from Bellport Bay on the south shore of Long Island, that he raised maybe hundreds of cats, including Princess, who had her very own seat at the Dolph dinner table, and Josephine, the Angora cat Dolph purchased in Paris.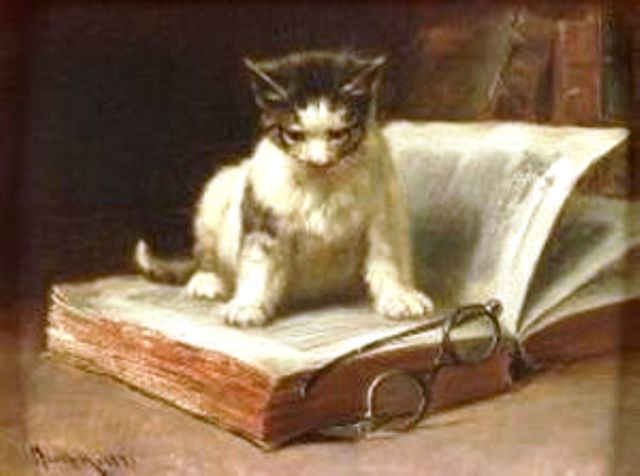 This Dolph painting is one of my favorites; it's called "The Scholar."  I don't collect art, but I would really love a signed Dolph painting (they sell for thousands of dollars now).
In Part II of this Old New York cat tale, I'll tell you about Princess, Josephine, and Dolph's cat workshop at 21 Academy Lane in Bellport.